The entire world is facing a situation unlike anything this generation has ever seen. What with stories of illness and uncertainty dominating the news, lockdown resulting in prolonged separation from loved ones and the financial impact that furlough and job loss has had on thousands, it's unsurprising that anxiety is on the rise. [1] During this crisis, the British public have been playing their part to help the NHS and each other get through this pandemic safely.
Volunteer armies
Taking up the NHS' call
On 24 March the NHS sent out a plea to the public for volunteers. [2] They were needed to help vulnerable individuals such as the elderly and those with underlying health conditions, who are at greater risk of catching Coronavirus. These volunteers would be tasked with helping deliver shopping and medicine to individuals isolating, driving people to urgent doctor's appointments, transporting NHS equipment and ringing people who are self-isolating and at risk of loneliness to check how they're doing.
The NHS initially asked for 250,000 volunteers. After just 2 days, 560,000 members of the public had signed up to help. The volunteer target was then increased to 750,000 and was also swiftly met, despite being more than triple what the NHS had initially asked for. [3] In the space of barely a week, three quarters of a million people had signed up to help our healthcare system fight coronavirus and look out for each other. There's been a temporary pause in recruiting volunteers while the NHS processes the applications they've received so far, but you can sign up to join the waiting list here.
Helping in our communities
While the NHS recruits volunteers to help those struggling most during the pandemic, pockets of society have been working together to aid the most vulnerable within their communities. Thousands of people at high risk from Coronavirus have been advised to stay inside until at least the end of June. [4] Some of these people may not have relatives or friends nearby who can help them get food and essential items, and for many individuals this is an incredibly lonely and daunting prospect. Realising the danger this places countless vulnerable people in, groups have been set up throughout the country to help those who are now confined indoors. This includes fetching groceries, walking dogs and chatting over the phone to self-isolating neighbours who feel lonely.
Covid-19 Mutual Aid is one such hub which provides a place where individuals can connect with nearby groups or register their own group to help those most in need within their area.
Aviah Sarah Day, founder of Hackney Covid 19 Mutual Aid Facebook group, states one of group's most important functions is to reaffirm faith in the goodness of human nature. Day states this situation has proved to her that 'people want to help each other.' [5]
Small actions, big impact
Clap for Our Carers
The 'Clap for Our Carers' began on 26 March and was a wonderful way of uniting the nation even while the virus kept us physically divided. Every Thursday at 8pm, thousands of people took to the streets to cheer and show appreciation for the key workers doing so much to fight the pandemic. The last applause took place on 28 May after the event's creator Annemarie Plas felt the 10th week should be its last. There are plans for it to become an annual national event – Clap For Our Carers Day – next taking place on 25 March 2021, one year after the first applause.
Chase the rainbow
Children across the UK are also doing what they can to help in their communities. Drawings of rainbows have been appearing in windows across the country, serving as a reminder that even the stormiest weather doesn't last. The rainbow has become a symbol of hope during the pandemic and a reminder to stay positive and hopeful. [6] People have taken to sharing their artwork or that of their children using the hashtag #chasetherainbow.
Many organisations have begun using the rainbow symbol on products such as tops, mugs and playing cards, with proceeds going towards helping NHS charities. A helpful list of some of these items can be found here, and a link to the 'Clap for Our Carers' T-shirts here.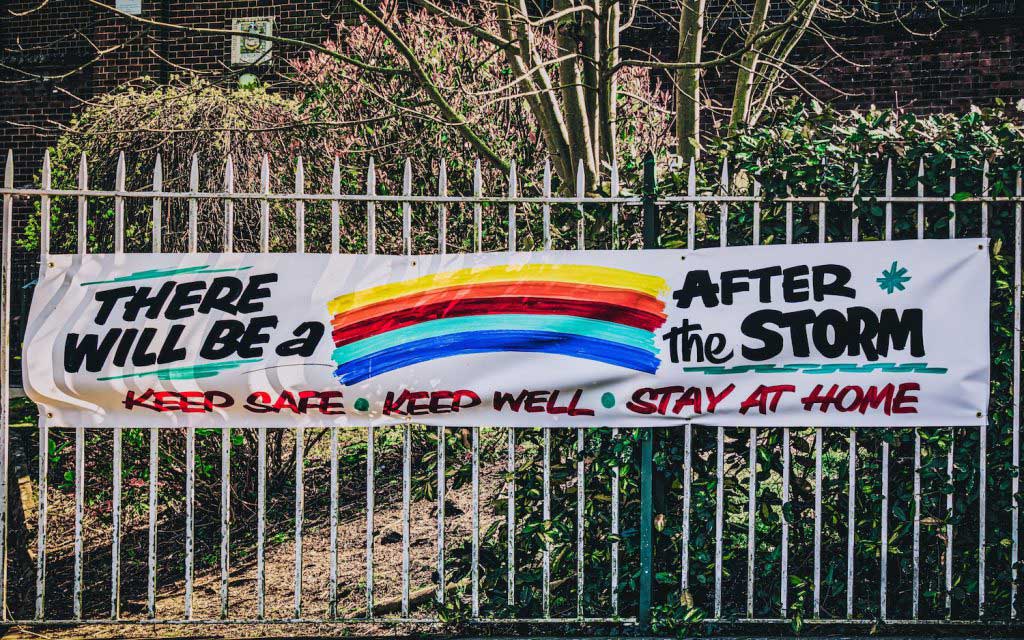 If you're struggling during the Coronavirus outbreak, the below articles give advice on the best ways to look after your mental health at this time.
World Health Organization: Mental health and psychosocial considerations during the COVID-19 outbreak
BBC News: How to protect your mental health
To find out more about how Covid-19 has had an impact on our healthcare system, read our blog here.
---