Patients that are about to consent to a surgery or treatment path need to understand the proposed treatment and be informed about the risks, benefits and alternatives of the surgery or treatment. Only then can they make an informed decision. The information they are given needs to be clear, accurate, evidence-based and up to date.
The Information Standard
The Information Standard reflects NHS England's commitment to improving the quality of health and care information that is available to the public, patients and health and care professionals. The Information Standard was developed in response to the large amount of health and care information available to the public and patients. Any organisation achieving The Information Standard has undergone a rigorous assessment to check that their information production process generates high quality information.
When you see The Information Standard quality mark on any materials, you can be assured that the organisation has undergone a rigorous assessment and that the information they produce is high quality and people can use it. This will help people to make informed decisions, for themselves and their family, when it comes to considering health and care options. – NHS Website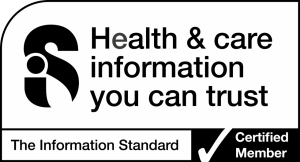 The Information Standard principles
The Standard is made up of six principles with underpinning requirements, informed by best practice for producing good quality usable information.
Information production – you have a defined and documented process for producing high quality information
Evidence sources – you only use current, relevant and trustworthy evidence sources
User understanding and involvement – you understand your users and you user-test your information
End product – you confirm that your finished information product has been developed following your process and is of good quality
Feedback – you manage comments/complaints/incidents appropriately
Review – you review your products and your process on a planned and regular basis
EIDO Healthcare
Helping people make informed decisions is what EIDO does. As the leader in informed consent, EIDO is committed to providing quality information.
During a rigorous two-day assessment, Information Standard assessors appreciated the comprehensive development and review process that all of EIDO's information undergoes. The assessment not only included samples from EIDO's library of nearly 400 leaflets, but also examined its entire production processes, including the full evidence-based referencing of all leaflets.
Achieving this prestigious award has only confirmed what many NHS trusts have always recognised: that EIDO Healthcare is the world's leading source of quality informed consent information for patients.
Read more about The Information Standard here.
Read more about EIDO Inform, the patient information documents developed by EIDO Healthcare, here.