EIDO's peer-reviewed consent documentation holds the PIF TICK accreditation, a UK-based quality mark awarded after detailed scrutiny from the Patient Information Forum.
The PIF TICK is a guarantee to patients and health professionals that the EIDO patient information library meets a stringent set of criteria:
Systems: Information is created using a consistent and documented process
Training: Staff receive ongoing training and support
Need: Resources meet a genuine need
Evidence: Information is based on reliable, up-to-date evidence which is communicated clearly
Involving users: Users are involved in the development of information
Health inequalities: Information is written to meet health and digital literacy, language and accessibility needs of the target audience
Content and design: Information is clearly communicated, easy to access and navigate
Feedback: There is a clear process for users to provide feedback
Disseminating: Information is promoted to maximise reach
Impact: The impact of information is measured
The PIF TICK is awarded after a thorough application and assessment process and is displayed on the cover of every document. Health professionals can be confident that the information they are giving to their patients will support an informed decision.
As part of EIDO's ongoing commitment to health literacy and understanding, the patient information:
Holds the Plain English Campaign Crystal Mark
Is peer reviewed, evidence based and regularly updated
Is available in over 20 languages
Is available in accessible formats (Easy Reads, large and giant print and screen readers)
EIDO's Content Director, Julie Smith, is a member of the PIF TICK sounding board. She meets regularly with a team of health information providers to review and advise on the PIF TICK process.
A survey by the Patient Information Forum found that 80% of people would look for some form of quality mark on health information. It also identified the need for information to be:
Evidence based
In plain English
Written and presented by real experts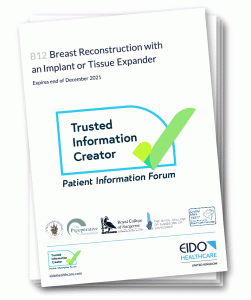 Increased use of "Dr Google" or Facebook groups offering non-medical advice and support has meant information used to make medical consent decisions can be misleading, confusing, out of date and is often incorrect.
EIDO works with expert healthcare specialists every day to ensure our patient consent documentation and content development and review systems are of the highest possible standard.
Our library holds around 400 treatment-specific documents developed and curated by practicing specialists.
For more information on the PIF TICK and the accreditation process from the Patient Information Forum visit www.piftick.org.uk or contact EIDO for more information.
You can read the PIF Health and Digital Literacy Survey Report here: https://pifonline.org.uk/resources/publications/health-and-digital-literacy-survey-201920/