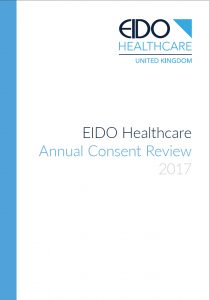 Cementing its place as an industry leader in informed consent, EIDO Healthcare has this year launched its inaugural Annual Consent Review at the ASGBI Surgical Congress in Glasgow.
EIDO Healthcare
EIDO Healthcare has been providing patient information documents to support consent for nearly 2 decades through its flagship product, EIDO Inform. Approximately half of NHS Trusts and 80% of private hospitals are now using EIDO Inform in the consent process, protecting themselves from consent related litigation.
The Review
With access to a large base of clients in the healthcare sector, and a panel of medico-legal consultants and advisers, EIDO Healthcare is perfectly positioned to create a review of recent developments around consent. The inaugural edition is to be launched at the premier surgical conference in the UK, the Surgical Congress of the Association of Surgeons of Great Britain & Ireland. This 30 page booklet reviews important cases since Montgomery vs Lanarkshire Health Board in 2015, and extracts key learnings from the cases which will be useful to both surgeons and healthcare professionals.
The Author
Vivienne Harpwood is Professor of Law at Cardiff University, where for many years she directed the LLM (Legal Aspects of Medical Practice) degree which she established in 1987, the first of its kind in the UK, which continues to attract students from all over the world. She lectures and publishes widely in the fields of tort and medical law in the UK and internationally. She is a founding editor of Butterworth's Medico-Legal Reports, and she established the journal Medical Law International.
Among her publications are the books "Legal Issues in Obstetrics", "Medical Negligence and Clinical Risk", "Medicine, Malpractice and Misapprehensions", and "Modern Tort Law", now in its 7th edition.
Visit the EIDO Healthcare stand at the ASGBI conference and pick up your complimentary copy of the 2017 EIDO Healthcare Annual Consent review. While you're there, speak to one of the consultants about how EIDO can help you reduce your admin and risk around informed consent.
The Future
The launch of the Annual Consent Review marks a significant occasion for EIDO Healthcare as it has recently undergone a rebranding exercise, launched a new website and announced the imminent release of several new products all designed to support the process of obtaining and storing consent. Visit the new-look EIDO Healthcare website at eidohealthcare.com to find out more about these exciting new products.
The Annual Consent Review will also be available for download in PDF format from the EIDO Healthcare website.