EIDO Healthcare is pleased to announce it will be attending the inaugural International Patient Experience Symposium this month in Abu Dhabi. The IPX is a conference with the aim of aiding and informing healthcare professionals on how best to deliver the greatest possible clinical, emotional and physical care to their patients.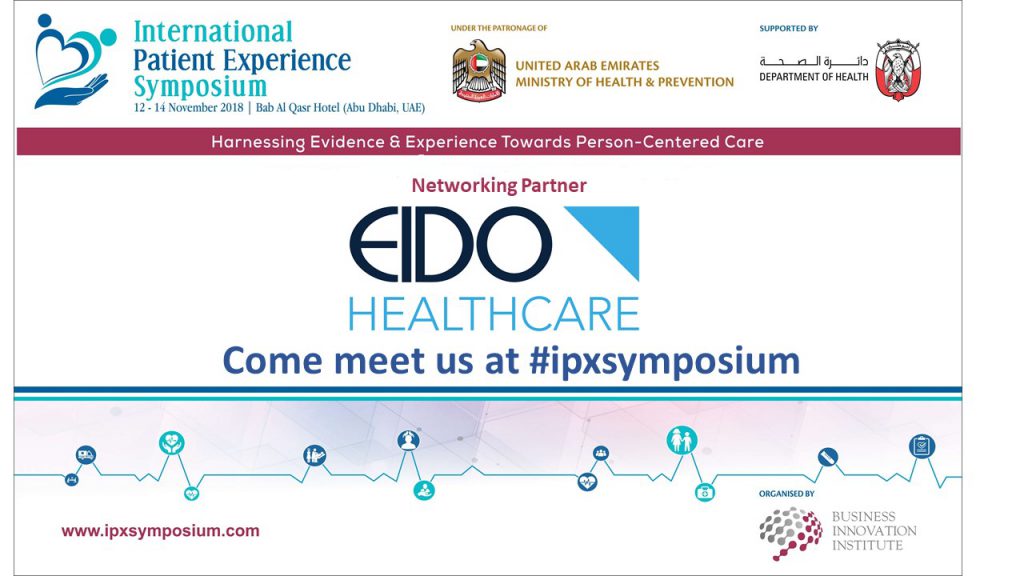 Event Details
The conference will be held at the Bab Al Qasr Hotel in Abu Dhabi from Monday November 12th at 8:00 AM – Wednesday November 14th 5:00 PM (2018).
Attendees will be invited to observe high quality, high energy talks led by senior-level healthcare experts, encouraged to take part in stimulating debates and advised upon how best to exert leadership qualities, all with the aim that upon departure you will have gained understanding and skills necessary to help your practise provide experience excellence.
Event speakers will deliver a range of talks, citing examples of evidence based best practises, case studies and up-to-date technology and tools essential in pushing your practise into the modern age.
The core themes of these talks will include;
National vision towards happiness & wellbeing
Building & sustaining PX initiatives across the continuum of care
Boost employee engagement & wellbeing to achieve PX goals
Capturing patient stories to transform delivery of care
PX innovation & technological interventions
Next level engagement & communication at the heart of PX
EIDO's Involvement
With over 700 public and private hospital customers across three continents, EIDO Healthcare has become the standard in high quality, evidence based patient education to support informed consent and improve patient experience.
However, around the globe the awareness of the vital importance of the need for a system in which clinicians involve patients more deeply in their own care journeys remains an issue which must be more greatly recognised. EIDO Healthcare's intention to further patient education worldwide will lead to the growth of organisations in which 'person-centred care' is at its heart.
For further details about the event and for information on how to register, please visit this link – https://www.ipxsymposium.com.