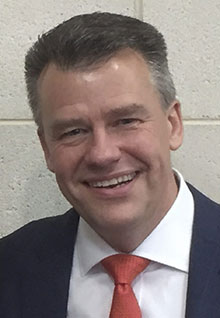 EIDO Healthcare is pleased to introduce the newest member of our team, Alistair Firth. Alistair comes on as Chief Executive of EIDO Healthcare and brings extensive experience to this new role in the company. With Alistair's expertise and passion for growing businesses, EIDO will be well placed to further cement the relationships it has with long-standing customers while expanding its customer base both locally and internationally.
Alistair joined EIDO at the start of the year. In his previous position at Wellcomm Health & Fitness, he was responsible for securing the franchise rights, finding the location and building the team for Orangetheory Fitness studio in the North of England. The studio is the first of 40 expected to launch by 2028 and opened in December 2018 in Altrincham to great success. Prior to that Alistair spent 15 years in the mobile telecoms industry working for Plusnet, EE, Phones 4u, and Vodafone.
Simon Parsons, Chairman of EIDO's Editorial Board and Consultant General and Upper GI Surgeon, had this to say about Alistair's appointment:
As EIDO grows both in the UK and internationally, the board decided there was a need to appoint a CEO to co-ordinate and focus UK activity and target the best international opportunities as well as to formalise our sales and business processes. Alistair has an excellent track record of growing small companies in the UK and abroad. He shares our values of honesty and integrity and we are excited to work with him. We look forward to a long and fruitful working relationship.
Alistair is passionate about improving customer experience by bringing new and innovative products to market. EIDO has new products in the market as it transforms its paper focused consent product to a set of digital products that aid more aspects of the consent process. Alistair's other work-related passion is developing and building high performing teams by investing in every individual under his charge, challenging them to step outside their comfort zone in order to help them reach their full potential.
Alistair is married to Alyson and has three teenage sons and as a family they are active members of their local Christadelphian church. When not working Alistair is an active runner, which he says keeps him both physically and mentally healthy. He has competed in a number of events, including the London marathon, and still believes (though his family doubt it) that he has a 3.15 marathon in him.
We wish Alistair all the best in his new role in the company and we look forward to EIDO reaching new heights in the medical sector, in the UK and abroad.